In memory of our servicemen and women who died on September 11, 2001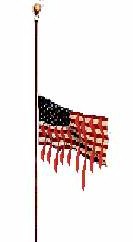 As you look down upon us, you can see the remains of what was your post.
You can also see our tears and feel our pain, but in the infinite
space that divides us, you are helpless to give us comfort.
Be patient with us for we must mourn your loss in order to heal.
We must cry, for our eagle has broken wing
and
the flag you swore to protect flys at half staff,
dripping red with your blood.
But watch us closely, for the day will come
when our eagle has healed
and
our flag of freedom will fly at full staff.
On that day, you will see us rise from our despair,
our spirit stronger,
and
standing taller with pride,
we will raise our right arm with clenched fist
in unity and defiance.
Your death has reminded us all that freedom is not free
and
it is as precious as life itself.
You have not died in vain for you have become our battle cry.
United State Army
Spec. Craig Amundson, Kansas
Lt. Col. Canfield D. Boone, Indiana
Sgt. First Class Olmedo Jose Orlando Calderon, Puerto Rico
Lt. Col. Jerry D. Dickerson, Mississippi
Maj. Wallace Cole Hogan , Jr., Florida
Lt. Col. Stephen Neil Hyland, Jr., California
Sgt. Maj. Lacey B. Ivory, Missouri
Lt. Col Dennis M. Johnson, Wisconsin
Maj. Stephen V. Long, Georgia
Lt. Col. Dean E. Mattson, California
Lt. Gen. Timothy J. Maude, Indiana
Maj. Ronald D. Milam, Oklahoma
Spec. Chin Sun Pak, Oklahoma
Capt. Clifford L. Patterson, Virginia
Chief Warrant Officer William R. Ruth, Maryland
Lt. Col. David M. Scales, Ohio
Sgt. Maj. Larry L. Strickland, Washington
Maj. Kip P. Taylor, Michigan
Sgt. Tamara C. Thurman, Alabama
Lt. Col. Karen J. Wagner, Texas
Staff Sgt. Maudlyn A. White, Virgin Islands
Maj. Dwayne Williams, Alabama
U. S. Navy
Yeoman Second Class Melissa Rose Barnes, California
Information Systems Technician Second Class Kris Romeo Bishundat, Maryland
Electronics Technician Third Class Christopher Lee Burford, North Carolina
Electronics Technician Third Class Daniel Martin Caballero, Texas
Lt. Eric Allen Cranford, North Carolina
Capt. Gerald Francis Deconto, Massachusetts
Information Systems Technician First Class Johnnie Doctor, Jr., Florida
Cmdr. Robert Edward Dolan, New Jersey
Cmdr. William Howard Donovan, Jr., New York
Cmdr. Patrick Dunn, New Jersey
Aerographer's Mate First Class Edward Thomas Earhart, Kentucky
Lt. Cmdr. Robert Randolph Elseth, New York
Storekeeper Third Class Jamie Lynn Fallon, Virginia
Aerographer's Mate Second Class Matthew Michael Flocco, Delaware
Capt. Lawrence Daniel Getzfred, Nebraska
Electronics Technician First Class Ronald John Hemenway, Kansas
Lt. Michael Scott Lamana, Louisiana
Operations Specialist Second Class Nehamon Lyons IV, Alabama
Electronics Technician Second Class Brian Anthony Moss, Oklahoma
Lt. Cmdr. Patrick Jude Murphy, Illinois
Illustrator/Draftsman Second Class Michael Allen Noeth, New York
Lt. Jonas Martin Panik, Pennsylvania
Ltjg Darin Howard Pontell, Maryland
Aviation Warfare Systems Operator First Class Joseph John Pycior, Jr., New Jersey
Information Systems Technician First Class Marsha Dianah Ratchford, Alabama
Cmdr. Robert Allan Schlegel, Maine
Cmdr. Dan Frederic Shanower, Illinois
Chief Information Systems Technician Gregg Harold Smallwood, Kansas
Lt. Cmdr. Otis Vincent Tolbert, California
Lt. Cmdr. Ronald James Vauk, Idaho
Lt. Cmdr. David Lucian Williams, Oregon
Information Systems Technician Second Class Kevin Wayne Yokum, Louisiana
Chief Information Systems Technician Donald McArthur Young, Virginia